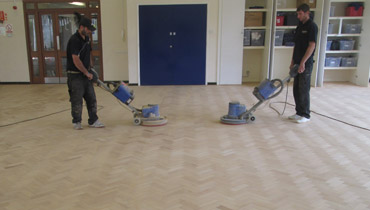 Every business owner better knows the power of the image and how it can affect the clients in a positive or negative way. The good presentation is what guarantees you the client's interest because your visions and style are the first things people see when meeting your business concept. People perceive with their eyes, as it is popular in the marketing branch and it is completely up to you to make their experience unforgettable, so they can remember your brand for longer. And that is the main goal for business owners, who would like to create a sustainable impression. Clients want to be impressed and, in fact, it is not hard at all to give them what they want, just start with the creating of an inviting and professional looking setting, including some care for your wooden floors in Enfield.
The well-maintained wooden floor gives every business a polished and confident presence, taking it to another level. Try to think for one single 5-star hotel, restaurant or store, which invites the guests in worn flooring setting! No, there isn't such a thing existing! These floors are your and you are the one, which is completely responsible for their look! If you want a slight update or a total transformation, be sure to hire a sanding specialist and what a better option than us for Enfield projects?
Among our satisfied commercial clients you can find some popular names in Enfield, which are known for a good reputation. We have so much experience in working for large-scale projects, including:
Offices and working places
Schools and universities
Museum and other public premises
Gyms and entertainment centers
Restaurant and hotels
Showrooms and retail stores
Of course, with so much expertise and knowledge we can deal with every wood floor restoration project, so if you have something in mind, but you are in doubt if we can help you – call us! We do can help you, we have an individual approach to every single project and the requirements, so don't hesitate. We are flexible and respecting to your schedule and we can work with limited time and at convenient for you time, minimising the disruption to the working process.
Well-sanded and treated wooden floors speak for confidence and your influence of a leading name in your field. Wooden floors are often associated with class, luxury and elegant style, is a sign of exclusivity, especially with such a variety of choice nowadays. We can help you with the lack of confidence of your business and offer a 5-star commercial floor sanding pamper, which will not only achieve uniform and sleek surface but also improve the stability of the floor, making it hardwearing and resistant to the frequent use. With us, your floor will receive a superb quality experience, we will improve it and get rid of the wear and tear traces and still saving its individuality and genuine character!
If you are planning a commercial floor restoration project in Enfield, be sure to get in touch with Enfield Floor Sanders for a 5-star treatment!