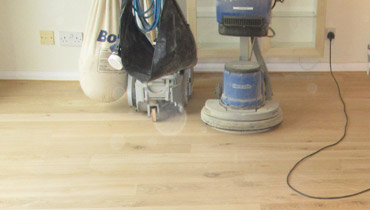 Nothing affects wood, even the well-sealed and well-treated wood, faster than exposure to the elements. Even the sturdy and hardwearing nature of engineered wood can suffer from numerous of inner and outer affection and direct exposure to sun, humidity and frequent traffic can ruin high quality and well-sealed materials, especially if you don't follow a proper maintenance routine and you keep neglecting finer imperfections. So your engineered wood floor doesn't need too much to the point, where it will need serious repair and renovation. Wood ages quite fast and needs a professional and reliable service to strip down the damage, seal to the satisfying effect and prevent the whole structure. If you don't like to get to the stage, where your engineered wood floor will experience too many issues, be sure to take care and hire an engineered wood sanding technicians from time to time. If you are Enfield based and you need some help, at Enfield Floor Sanders we can do the hard work for you!
You can transform your engineered wood flooring completely with just a single visit from our experienced and reliable engineered wood sanding and restoration service in Enfield. We have the expertise and knowledge to know how to react in even unexpected situations, guaranteeing flawless results and leaving your property completely tidy and no-mess. In addition, our services are always timely and won't break the bank, because our prices are very reasonable and you can even reduce them by checking our special offers section and get the deal!
Before starting with any sanding process, we will inspect your engineered wood installation in Enfield, offering a free site visit. After that and keeping in mind your requirements and desires, we can suggest the best strategy for the individual needs of the project. If your floor is in really poor condition or there are some major problems, our honest recommendation will be a repair service. Once the majority of the issues are removed and we've achieved a sturdy and durable base, we can carry on the sanding service.
Sanding will completely remove finer scratches, dents and gaps, stains and other imperfections you can suffer from. You will end up with a completely uniform and smooth surface, ready to be transformed in the way you would like. In fact, engineered floor restoration is considered to be a tricky and risky project, because every plank is made with a thin real wood top layer and there is a risk to ruin them all. Don't worry, because we can promise you that will never happen, we are precise and work with attention to details and have enough experience to deal with every type of wood flooring the proper way.
After sanding it is time for some protection. Sealing products and stains, especially high quality and natural as the ones we always use, will create a protective barrier between the surface of the bare wood and the environment, promising a long-lasting protection.