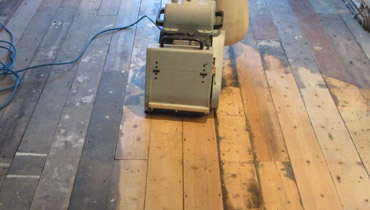 As many real estate agents in Enfield will tell you: "Hardwood floors add value to every space they are installed in.'' And they will be completely right because hardwood is the iconic and evergreen-style type of wooden flooring, which is a golden classic for centuries. Hardwood floors can really add a lot of warmth and cosiness to the property with a tranquil style, or be a vibrant focal point with interesting colour and grain. The choice about the look is completely personal, but hardwood timbers always come extra durability, longevity and sturdiness and promise long years of faithful service. Of course, in order to keep their initial beauty and good condition, you have to have a proper cleaning and maintenance routine and consider a hardwood floor sanding service every now and then, when you feel your floor has had a better day.
Wood floor sanding is an essential part of the renovation service and although it can't get rid of all the major issues by itself, it can significantly improve not only the look but also the condition of the whole construction. Our sanding process is created and dedicated to deliver extra quality and deal with smaller imperfections and defects like scratches, stains and so, leaving the surface extra uniform and sleek.
In order to deliver extra quality and to guarantee flawless results, we invest our time, money and knowledge in improving every single day. Our experts are not only skilled and totally dedicated and passionate to achieve your requirements and answer your expectations but also are constantly keeping an eye on the current trends and making their best to incorporate contemporary methods with the already proven and successful ones in order to be able to provide you with the highest quality.
At Enfield Floor Sanders we also invest in technical excellence. We put trust in only the highest quality sanding machines, which, on top of that are 99% no dust and mess for maximum comfort for our Enfield clients.
We would like our clients to be informed for their options, so here is a little list of the hardwood floor sanding service we offer. However, keep in mind, we have an individual approach to every project and quotations and the full service information could be provided after free on-site visit and consultation.
Prior inspection of the floor, so we can explore all the imperfections and give our honest opinion, what your wood timber is in need of.
Repair and restoration are recommended if the floor is in really poor condition and the service includes gap filling, old floorboards replacing, repair damaged spots and more in order to create super sturdy base for the upcoming stages.
Sanding – for a perfectly sleek and uniform surface.
Sealing – for creating a hardwearing barrier for protecting the wood, adding more durability and strength.
Staining – for a beautiful and unique look of your floor.
Please, feel free to call on 020 88309782 for more information about our wood floor sanding service!