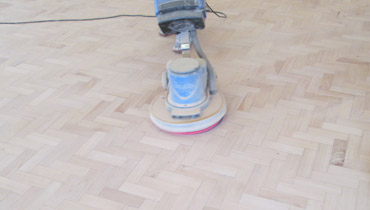 Parquetry is a wooden flooring at its finest, offering one of a kind beauty and style that no other type of flooring can really beat and imitate. Parquetry is a style of mosaic installation, creating complex and beautiful geometric patterns, which can complement every room, every style, being traditional or contemporary. Parquet floors can be constructed from every wood species and in a variety of patterns and they bring a completely different sense and vibe to the place, requiring special maintenance in order to save their lovely look and good condition for longer. Preserve the initial beauty of the mosaic composition for years to come by hiring Enfield Floor Sanders for a parquet floor sanding service in Enfield, because it will bring back the initial glory. We can promise you to pamper your parquetry installation with a professional touch, without losing the initial art line and achieving a flawless look and perfect results.
How We Approach a Parquet Floor Sanding Project
Because parquet flooring is mosaic and fitted in complex compositions, we first need to inspect the pattern in order to see how it is affected and if you would like our honest recommendation, be sure to contact our customer service and request a free site visit in Enfield. We have this rare for the flooring companies approach and we would like to completely understand the project and your requirements, so we are able to find the best battle plan and can promise you total success. We really believe that this free initial inspection of the floor and its condition allow us to recommend and suggest only the most necessary services and treatments to the wooden floor and save you additional time, money, and energy. You don't have to deal with extra services that are really not necessary for the project.
Why We Are Your Parquet Floor Sanding Company in Enfield?
When it comes to floor sanding in Enfield, we are at the top of our branch and many satisfied and loyal clients can support this statement. At Enfield Floor Sanders you can meet only experienced and knowledgeable professionals, who are dedicated to delivering the highest quality and nothing less. In addition, we invest in technical excellence and work with contemporary sanding machines, which are 99% dust free and create less residue as you won't experience hiring another company in Enfield. So, we can promise you to leave your property completely tidy and clean and minimise the disruption to your day and work.
Years of Experience and a Great Portfolio of Wood Floor Services
We are sanding specialists, but in some cases, you may need some additional help, including repairs of floors in poor condition and we can also offer you that. We highly believe our services are not only one straightaway process but the full care package in order to achieve the desired outcome. What you can expect in addition to our parquet floor sanding service is:
Gap filling – A service, dedicated to filling non-structural gaps with high quality resin fillers and leaving the surface uniform and smooth.
Repairs and restoration - We will give you our honest recommendation for repair services if there are deep dents and scratches, penetrating through the top layer, also loose or broken blocks. We can replace them and find the perfect match.
Wood floorboards replacement – for broken spots and blocks, which can fit no more due to moisture effect and so. Our spot repair service is better than replacing the whole floor.
Wood floor refinishing – The perfect finishing touch after sanding, because wood's pores are open and the products will adhere better and achieve flawless and even coverage and durable protection.
Wood floor staining – Enhancing the natural beauty of the wood species' colour or adding a new and exciting shade to your favourite wooden floor and achieving a more contemporary look.
Products Used for Our Parquet Floor Sanding and Refinishing Projects
Parquet floor sanding is perceived as a serious challenge by many experts in the industry. Indeed, being able to restore the condition of the floorboards without affecting the concept of the pattern and its integrity is not the easiest thing in the world and requires a lot of experience, knowledge, mastership. Sanding a parquet floor straightforward as you can do with other types of wood flooring is impossible because it means you are sanding against the grain and damaging the floorboards. Therefore, make sure that your parquet floor sanding project is left in the reliable hands of reputable experts like the ones in our team. Along with utilising contemporary and innovative methods and equipment, we also rely on premium quality products for refinishing the parquet floor. Following are a few examples of the best products we will use for your project and for achieving really flawless results.
Bona Mega – a waterborne, polyurethane finish designed for both domestic and commercial use. Available in extra-matte, matte, satin, and gloss.
Bona Traffic HD – a two-component polyurethane finish designed for commercial use for high-traffic and heavy use areas. Available in extra-matte, matte, and satin.
Bona Classic Primer – a primer for light wood colouration. Suitable to all types of wood and wood flooring.
Bona Prime Amberseal – a waterborne primer for intense and rich colouration of the wood.
Bona Prime Deep – an oil-based primer for enriching the natural grain and pattern of the wood.
Bona Prime Intense – a waterborne primer for untreated wooden surfaces and for producing medium to the rich colouration of the wood.
Bona Mega and Traffic Natural – A high-quality lacquer for all types of wood and for producing durable and hard-wearing protection.
Junckers Strong Varnish – water-borne, polyurethane lacquer with hard-wearing properties and great durability.
Junckers BasePrime Primer – a quick-drying primer for water-based and solvent-based lacquers.
Junckers PreLak Primer – a fast-drying, water-based primer for water-based finishing products.
Junckers HP Commercial – a hard-wearing, water-based polyurethane lacquer for commercial use.
Loba WS Easy Prime – a polyurethane-acrylate waterborne primer, easy application, fast-drying.
Loba WS Viva One-Component Lacquer – designed for solid wood and parquet floors.
Loba WS Fusion Two-Component Lacquer – Designed for the treatment of busy and high-traffic areas, for commercial use.
Make sure to contact us on 020 70360622 whenever you have additional questions about the services we deliver and for requesting a free on-site inspection of your wooden floor.